"CRAZY ANTS" ARE COMING NORTH, ARE YOU PREPARED?
"CRAZY ANTS" LOVE ELECTRIC OUTLETS, WIRING, A/C CONTROLS, REFRIGERATOR DEFROST TIMERS, ELECTRIC PANELS, MICROWAVE OVENS, AND THEY WILL CONGREGATE BY THE THOUSANDS IN YOUR KITCHEN IF YOU LET THEM.

THE "CRAZY ANT EXCLUDER" tm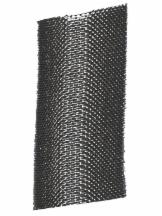 HAVE YOU EVER NOTICED HOW MANY PESTICIDE APPLICATOR TRUCKS YOU SEE EVERYDAY AND WONDERED WHY SO MANY? THERE ARE TWO SIMPLE ANSWERS: 1) COCKROACHES NATURALLY RESIDE OUTDOORS IN TEXAS, AND 2) IF YOU HAVE A BRICK VENEER HOUSE IT HAS MOISTURE ESCAPE OPENINGS ALL ALONG THE BOTTOM OF THE EXTERIOR BRICK WALLS AROUND THE ENTIRE PERIMETER OF YOUR HOUSE, OTHERWISE KNOWN AS "BRICK WEEPS."
If you totally fill or seal your brick weeps with concrete or caulking, the walls of your house will eventually begin to mold and rot.

"CRAZY ANTS," COCKROACHES, CENTIPEDES AND OTHER UNDESIRED INSECTS, BEES AND EVEN SNAKES CAN READILY ENTER THE WALL-SPACE OF YOUR HOUSE THROUGH THE MANY BRICK WEEP OPENINGS, ALL OF WHICH ARE QUITE CLOSE TO GROUND LEVEL. ONCE BEHIND THE BRICKWORK, OTHER UNINTENDED OPENINGS OCCUR ALLOWING ENTRY TO YOUR WALLS AND HOUSE INTERIOR. ONCE INSIDE THE STRUCTURAL WALL, FROM THAT POINT, MINOR GAPS BETWEEN THE INTERIOR DRYWALL AND THE SUPPORTING STUDS ALLOW COCKROACHES AND MILLIPEDES TO CRAWL UNDER YOUR BASEBOARDS AND WHILE YOU ARE WATCHING TV, EMERGE TO RUN ACROSS YOUR CARPET AND HEAD FOR YOUR KITCHEN OR BATH OR INDOOR PLANTS WHERE WATER CAN BE FOUND.
TO AN INSECT, YOUR BRICK WEEP OPENINGS ARE THE EQUIVALENT OF AN AIRCRAFT HANGAR OPENING TO YOU.

YOUR REACTION TO SEEING A BUG ON YOUR CARPET IS TO CALL A PEST CONTROL COMPANY, WHO THEN SPRAYS DEADLY POISONOUS INSECTICIDE ON YOUR CARPET ALONG YOUR BASEBOARDS, UNDER YOUR SINKS, UNDER YOUR REFRIGERATOR AND OUTSIDE AROUND THE FOUNDATION. SINCE THE TRESPASSING INSECT WAS TRANSIENT, THE INSECTICIDE SOON DRYS UP AND IN AWHILE ANOTHER ONE MAKES IT WAY THROUGH YOUR BRICK WEEPS AND WALL CREVICES AND YOU CALL THE PEST CONTROL COMPANY AGAIN AND EVENTUALLY SIGN UP FOR REGULAR SCHEDULED TREATMENT. MEANWHILE, YOUR HOUSE IS BECOMING STEADILY LADEN WITH PESTICIDE RESIDUE THAT IS SUCKED INTO YOUR VACUUM CLEANER AND DISCHARGED INTO THE AIR OF THE HOUSE WHERE YOU THEN BREATHE IT IN .

ADDING POISON TO YOUR HOME CAN BE AVOIDED. THERE IS ANOTHER WAY.

RETROFITTING YOUR BRICK WEEPS WITH STAINLESS STEEL MICRO-MESH SCREENS MANUFACTURED BY AMERICAN BRICKWEEP SCREENING, A DIVISION OF HYGEIA GROUP LLC, VIRTUALLY ELIMINATES THIS SOURCE OF INDOOR PESTS IN BRICK HOMES, PERMANENTLY AND PASSIVELY, WITHOUT ANY FURTHER REGULAR USE OF PESTICIDE. IF YOU HAVE AN EXISTING HOUSEHOLD INFESTATION, YOU WILL NEED TO HIRE A LICENSED PESTICIDE APPLICATOR COMPANY TO KILL OFF THE CURRENT PEST OCCUPANT POPULATION. ONCE THE BRICK WEEP SCREENS ARE INSTALLED, YOU WILL SEE FEWER CRAWLING INSECTS AND THOSE THAT YOU DO SEE WILL BE EITHER SMALLER THAN THE FINE MESH OF THE SCREENING OR WILL BE FINDING OTHER OPENINGS INTO YOUR HOUSE SUCH AS UNDER DOORS, POORLY SEALED OR OPEN WINDOWS AND FOUNDATION CRACKS, OR YOU WILL BE BRINGING THEM INTO YOUR HOME VIA CONTAMINATED PACKAGES AND LUGGAGE.

AMERICAN BRICKWEEP SCREENING IS ECONOMICAL TO INSTALL, JUST TEN ($10) DOLLARS (US) PER ACCESIBLE BRICKWEEP. ADDITIONAL LABOR AT SIXTY ($60) DOLLARS PER HOUR MAY BE INVOLVED IF IT IS NECESSARY TO TRIM OR REMOVE OVERGROWN BUSHES TO GAIN ACCESS. IN SOME CASES YOUR BRICK WEEPS MUST BE DRILLED OUT TO A UNIFORM SIZE OR TO REMOVE EXCESS MORTAR TO PERMIT INSTALLATION. SINCE ALL BRICK WEEPS ARE OF SLIGHTLY DIFFERENT SIZE, WE MEASURE EVERY BRICKWEEP WITH A MICROMETER AND CUSTOM MANUFACTURE OUR BRICKWEEP SCREENING TO PRODUCE THE MOST ACCURATE FIT POSSIBLE. ALTHOUGH OUR SCREENS ARE REMOVABLE, THEY SHOULD VIRTUALLY NEVER NEED TO BE REMOVED AND BEING MADE OF A SUPERIOR QUALITY OF STAINLESS STEEL SHOULD LAST LONGER THAN YOUR HOUSE AND NEVER RUST. GALVANIZED BRICKWEEP SCREENING IS ALSO OFFERED AT LESS COST.
Our price to anyone in the greater DFW metroplex is flat rate $20 per brickweep installed + our trip fee per your location.

SOME HOUSES HAVE AN INSUFFICIENT NUMBER OF BRICK WEEPS. WHERE NEEDED, WE WILL CREATE NEW BRICK WEEPS WITH SCREENING INSTALLED FOR THE FEE OF TWENTY-FIVE ($25) DOLLARS EACH PLUS ANY LABOR NECESSARY TO REMOVE OR TRIM BUSHES TO GAIN ACCESS.

Our service area is the entirety of North-east Texas within 100 road-miles of zip code 75087.

If you are not located within our installation service area, we will gladly custom manufacture and ship to you brickweep screens that you can trim to adjust the fit and install yourself. The cost is a $25 set-up fee plus $10 per screen, shipping included to USA 48 contiguous states only, prepaid, non-returnable, VISA & MASTERCARD orders accepted.

CALL TODAY 972-768-6160 FOR PROMPT AND EFFICIENT INSTALLATION.
Due to fluctuating material prices, all prices herein are subject to change, best to ask for a price confirmation.